Recipe: Delicious Pane
Pane.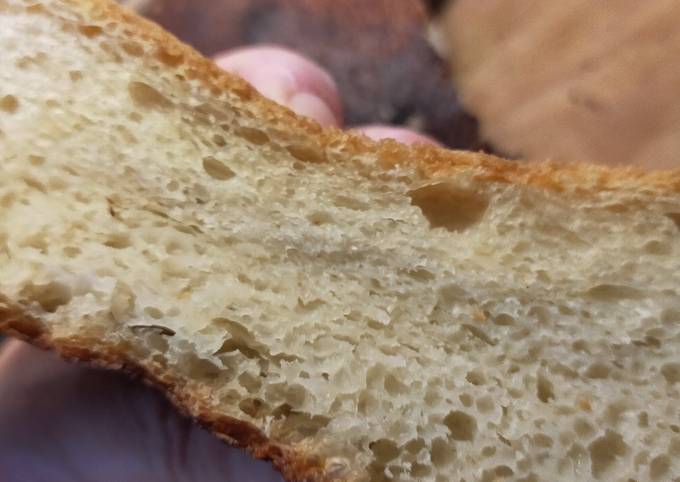 You can cook Pane using 0 ingredients and 5 steps. Here is how you achieve that.
Ingredients of Pane
Pane instructions
Per il poolish Mescolare l'acqua e la farina. Aggiungere la pasta madre. Otterrete un composto semiliquido che dovrete coprire con la pellicola e lasciare a temperatura ambiente per circa 12 ore. Io ho iniziato la sera e lo avevo pronto la mattina.
.
Per l'impasto Mescolare le farine e l'acqua e lasciar riposare per circa 30 minuti (autolisi). Aggiungere il prefermento e il sale e impastare fino a ottenere un composto liscio e omogeneo. Mettere il composto in un mastello ben oleato. Coprire con della pellicola e lasciar riposare 1 ora. Dopodiché procedere con una serie di pieghe a distanza di mezz'ora. Dopo l'ultimo giro di pieghe formare il filoncino come nell'immagine: stendere l'impasto a forma di rettangolo e chiudere i lembi superiori..
Arrotolare i lembi su se stessi fino a formare un filoncino. Riporre il filoncino a lievitare in un cestino da pane con la chiusura verso l'alto (in alternativa anche un cestino normale con dentro un canovaccio ben infarinato). Far lievitare fino al raddoppio. Trascorso il tempo rovesciare il pane sulla pala infarinata o sulla teglia e infornare alla massima temperatura per 10 minuti con vapore (potete mettere una ciotola con acqua nel forno)..
Dopo i primi 10 minuti abbassare la temperatura a 200°C per altri 40/50 minuti circa. Sfornare e lasciar raffreddare su una griglia..