How to Prepare Appetizing Cheesecake ai frutti di bosco
Cheesecake ai frutti di bosco.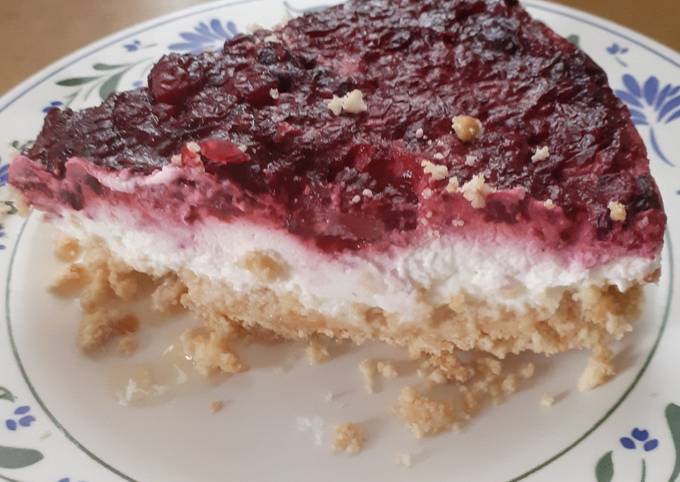 You can have Cheesecake ai frutti di bosco using 0 ingredients and 6 steps. Here is how you achieve it.
Ingredients of Cheesecake ai frutti di bosco
Cheesecake ai frutti di bosco step by step
Intanto che il burro si scioglie lentamente in un tegamino sul fuoco, mettete in un mixer da cucina tutti i biscotti e sminuzzati tutti, sino ad averli frantumati. A questo punto, levarli, aggiungere il burro, mescolare per bene fra loro. Disporre tutto ciò in una tortiera a cerniera del diametro di 24 cm, livellando per bene con l'aiuto di un cucchiaio. Disporlo a questo punto a riposare per almeno 30/40' in frigorifero..
Ora prepariamo la crema. Sbattere con le fruste elettriche con circa metà dello zucchero indicato assieme ai semi di bacca di vaniglia. Fare andare così le fruste per qualche minuto..
Mettere la colla di pesce a mollo in acqua fredda per farla ammorbidire. Nel frattempo montiamo la panna con il restante zucchero a velo, tranne due cucchiai che serviranno dopo per far sciogliere su fuoco la colla di pesce. Quando sarà ammorbidita, strizzarla per eliminare l'acqua in eccesso, metterla quindi, dapprima assieme alla panna, poi aggiungerla ai formaggi, assieme alla panna..
Mescolare mi raccomando dal basso verso l'alto il tutto, poi tirare fuori da frigo lo stampo biscottato. Versarvi sopra la crema, livellarla per bene con l'aiuto di un cucchiaio da cucina, quindi riporla in frigorifero per almeno 6/7 ore..
CREMA AI FRUTTI DI BOSCO: Mettere in un pentolino i frutti di bosco con lo zucchero a velo, far cuocere qualche minuto, finché non rilasceranno il loro succo, in modo tale da avere una cremina piuttosto compatta..
Quindi, togliere dal frigo, sistemare la salsina sopra e, se si vuole, si può a piacimento decorare..