Easiest Way to Make Tasty Tigelle
Tigelle. Proud of who she is on the inside, confident to show it on her outside. That's what makes her sexy, that's what makes her beautiful. Proud of who she is on the inside, confident to show it on her outside.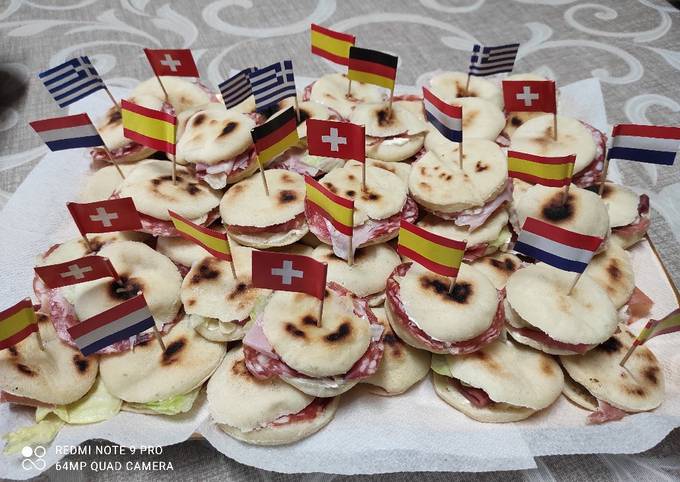 Tigelle are one of the most discussed topics of Emilia Romagna's food. If you order tigelle in Modena you will eat a typical bread, usually served with meat and cheese or pesto. Tigelle are a state of mind, a way of life, they are in the DNA of Emilian people but especially of Modenese ones. You can cook Tigelle using 0 ingredients and 3 steps. Here is how you cook it.
Ingredients of Tigelle
Tigelle: the name and the history. Tigelle – Crescentine Modanesi Popularly called Tigelle, they are often referred to as Crescentine Modanesi. The tigella is an ancient Italian flatbread with origins in the Province of Modena. Tigelle is an Italian small, round, thickish flat bread that is traditional in Modena (in Emila-Romagna.) Tigelle can be split and used for a sandwich of a cheese and a cured meat such as prosciutto or lardo.
Tigelle instructions
Mescola acqua, lievito e sale…aggiungere farina e strutto e impastare per 2 minuti….
Coprire e lasciar lievitare per 2 ore, successivamente stendere e con un bicchiere fare le forme e cuocere in padella a fuoco basso….
Prendere tigella cotta, tagliare e riempire a piacere Es: Philadelphia, crudo e insalata.
Le tigelle, dette anche crescentine o crescenti, sono delle focacce tipiche delle zone montane dell'Emilia Romagna a base di acqua, sale, farina, strutto e lievito. Crescentine (also known as Tigelle) are a type of bread made on the mountains around Modena and they are usually filled with cold meats and cheeses. Tigelle — Tige Pour les articles homonymes, voir Tige (homonymie). La tige est chez les plantes, l axe généralement aérien, qui prolonge la racine et porte les bourgeons et les feuilles. Le crescentine (da impasto che cresce), note comunemente come tigelle, sono delle focaccine tipiche modenesi, preparate con un impasto a base di farina, strutto, lievito e acqua.