Recipe: Perfect Cheesecake al Mango
Cheesecake al Mango.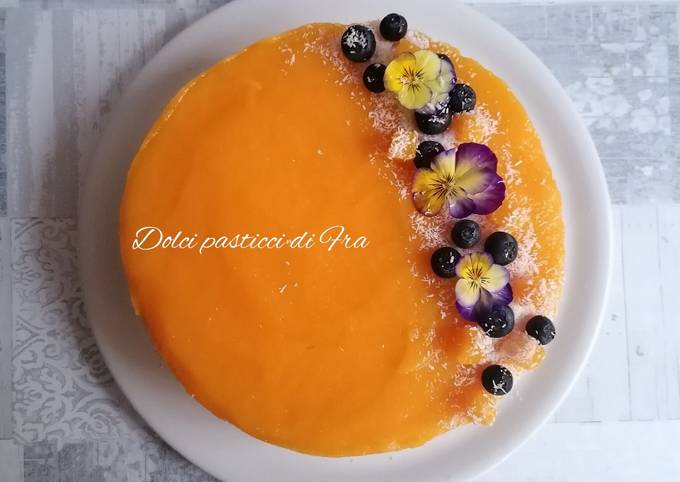 You can cook Cheesecake al Mango using 0 ingredients and 5 steps. Here is how you achieve it.
Ingredients of Cheesecake al Mango
Cheesecake al Mango step by step
Per prima cosa prepara la base. Posiziona il cerchio di uno stampo apribile da 22/24 direttamente sul piatto da portata e rivesti i bordi con carta forno o una striscia di acetato. cm Riduci in polvere i biscotti e unisci il burro fuso..
Metti in ammollo la gelatina in poca acqua. Mescola la panna con il succo di lime e lascia riposare. Sbuccia il mango, ricava la polpa e con un mixer a immersione riduci in purea..
Con le fruste elettriche ammorbidisci il formaggio, unisci la panna, lo zucchero a velo, la gelatina strizzata e sciolta con un cucchiaio di panna e la purea di mango. Amalgama bene e versa sulla base di biscotti, lascia rassodare in frigo per almeno 2 ore..
Passato il tempo di riposo prepara la copertura. Frulla la polpa di mango con il succo di lime e lo zucchero. Se usi l'agar agar fai sciogliere con 2 cucchiai di purea di mango, se usi la gelatina fai ammorbidire in acqua, strizza e sciogli con 2 cucchiai di purea. Unisci la gelatina alla purea e versa sulla Cheesecake, livella e riponi nuovamente in frigorifero a rassodare per almeno un ora..


Prima di servire sforma la cheesecake e decora a piacere..