Recipe: Perfect Baci (Perugina 🤔)
Baci (Perugina 🤔).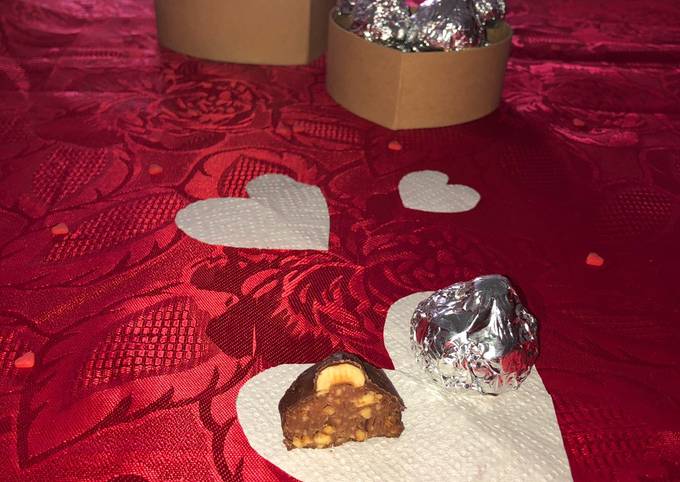 You can have Baci (Perugina 🤔) using 0 ingredients and 9 steps. Here is how you achieve it.
Ingredients of Baci (Perugina 🤔)
Baci (Perugina 🤔) instructions
Mettiamo la panna in un pentolino e la portiamo a bollore. Togliamo la panna dal fornello ed aggiungiamo il cioccolato al latte spezzettato finemente. Giriamo con la spatola sciogliendolo completamente, se non vi si è sciolta bene potete scioglietela a bagnomaria fino a che non è tutto ben amalgamato..
Ora prendiamo le nocciole e le tritiamo..
Ora inglobiamo la granella di nocciole con il cioccolato fuso. Amalgamiamo bene il tutto e riponiamo in frigo per 1h..
Riprendiamo il composto e formate delle palline della grandezza che preferite. Aggiungiamo in cima ad ogni pallina una nocciola intera e facciamo raffreddare di nuovo in frigo per 1h..
Tritiamo e sciogliamo il cioccolato fondente a bagnomaria..
Immergiamo ogni "bacio" nel cioccolato sciolto, aiutandoci con una forchetta in modo che quando tiriamo su il cioccolatino, il cioccolato in eccesso scivola giù. Ricoperti tutti i "baci", li facciamo asciugare all'aria..
Una volta asciugati possiamo incartarli singolarmente con piccoli fogli d'alluminio oppure possiamo inserirli in pirottini di carta..
Li mettiamo in delle scatoline da regalo, o una tazza, o in un sacchettino, et voilà!.
Conservazione: per 10-15gg a temperatura ambiente.